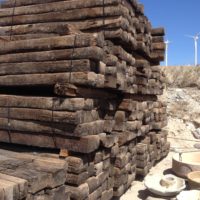 At Whitewater Rock & Supply Co., we have a vast selection of natural stone to incorporate into any style of desert landscape design, but did you know that we also have railroad ties? Railroad ties are the square wooden supports laid perpendicular to the rails on railroad tracks. Railroad ties come in 8 foot lengths and are an economic solution to many landscaping basics. They add a rustic feel and have become increasingly popular in landscape design. Here are some of the uses we've seen for railroad ties:
Plant/Flower Bed Border
This is probably one of the most basic uses, as all you have to do is cut the railroad tie to size and lay it down to create a flower bed. However, we have seen perfect squares, triangles, zigzag patterns, and even shorter ties lined up and standing on the short end. Create a finished look by adding pebbles as ground cover around your plants.
Hillside Barriers/Retaining Walls
This is another popular use as it can be very economical and a relative easy DIY project. Depending on how high you need the wall, it may be as simple as carefully stacking the ties for a very short wall or needing to create some sort of support with additional perpendicular boards. There are many great websites that you can use to find DIY tips.
Pathways
Pathways can be straight and angular or whimsical and more creative. We've seen railroad ties laid tightly directly next to each other or in a slightly curved line, and even placed in unique geometrical patterns. Or use ties laid end to end as a board for your pathway. This is a great opportunity to choose some gorgeous rocks or pebbles to fill the gaps between the railroad ties, creating a unique balance of the dark rustic warmth of the wood with the very different texture (smooth or rugged) and variety of colors of stone.
Railroad ties work well bordering almost any area to create a more finished look and contrast against concrete, grass, decomposed granite and other rocks or groundcover. Whitewater Rock & Supply can help you with your landscape design supply needs with over forty acres of the largest building stone and boulder inventory in Southern California. Come visit our rock yard to see all of your choices. We deliver throughout the Coachella Valley and anywhere in Southern California and beyond.