Breeze Block originated in the 1930s. It started to gain massive popularity in the 1950s and 1960s, becoming a common fencing option not only in the suburbs but also in commercial work.
Locally, Breeze Block (also known as Screen Block) is making a major comeback thanks to the rise of all things mid-century modern in the greater Palm Springs area. In reality, though, it's plain to see that breeze block never really left and we're all just finally paying attention. You can hardly pass a house on the Modernism Week tour without this type of statement wall being showcased somewhere in or on the property.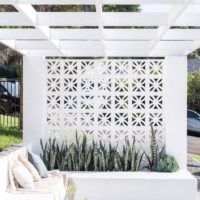 If you own a mid-century modern home or commercial building, incorporating Breeze Block into the exterior design of your property can give it a lot of authentic character. It can also completely change the look of a home that may have a very simple and uninteresting front elevation. We love the use of Breeze Block to help define a seating area in the image to the left.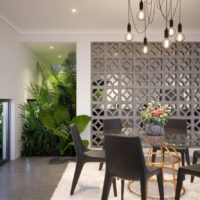 While Breeze Block has always been a wonderful outdoor accent, we especially love to see it incorporated inside residences such as in the image shown. The Breeze Block wall in this home adds a pop of modern character and creates a visually stunning focal point.
There are so many creative ways to use Breeze Block to upgrade the appearance of your home. The experts at Whitewater Rock & Supply can help you choose a color and pattern that work for you. We work with homeowners, builders, architects, landscapers and other industry professionals throughout Southern California and offer delivery as well. Our years of expertise and our vast selection of products can help you get the job done. Come visit our rock yard to see our vast selection of hardscape material, crushed rock, boulders, building stone, natural stone panels and so much more.