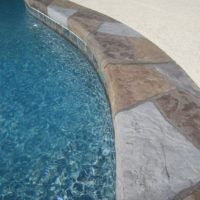 Does your pool deck look dull, outdated, and a little uninspiring? Maybe it's time for a remodel. Looking to expand your current deck with new materials to ensure a seamless look? Also, a good time for a remodel. No matter what your current deck looks like, we have the materials to create a stylish and inviting design for your backyard retreat.
Pool coping is the cap around the edge of the pool and should be treated differently than the pool deck itself. This is usually made from stone or concrete and is normally around 12 inches wide. Pool coping is the space between the pool and the deck so it's nice to have a contrasting material for the two. Pool decking is the lager area around the pool which should accommodate furniture, chairs, fire-pits, and more often than not, a BBQ area. Decking allows for a lot of design options.
When building or remodeling the pool deck, the first step is choosing the proper materials. Here's a look at popular coping and decking materials.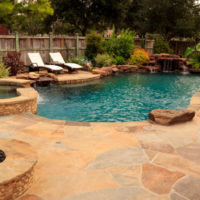 Stone has become one of the most popular decking materials and great in all climates. Not only is stone durable, it adds a natural beauty to your poolside. Stones for pool decks are available in many sizes, shapes, and colors. Stone finish is also a very convenient option due to the fact it's almost no maintenance. Blending the natural earthy look, you can also use stone pool decorations such as waterfalls, boulders and other structures. Stone decking adds a timeless, natural look which is suitable for just about any architectural style.
For a typical installation, large stones are finely cut and then embedded into a layer of concrete. This helps prevent any movement over time. Another great advantage of this surface is that it provides natural friction. This natural friction proves to be very useful, as it can be almost slip-proof.
The durability and stylish look of stone does have a price. Stone can be the most expensive option for pool decking. However, the quality and design options are often hard to beat.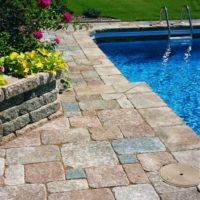 Pavers come in a number of different shapes, colors, and sizes. Pavers are bricks made from either concrete or stone. They're arranged into an interlocking pattern and then placed on top of either a stone or sand base. You can use the same size or mix sizes to create your own stylish pattern. Pavers can create a range of looks to suit any pool deck.
Pavers are perfectly suited for pool deck's because they can endure the effects of the pool water. One of the key features that pool deck pavers create is safety. Pool deck pavers are used for the aesthetic effect and texture it brings to the pool deck area, while at the same time pool deck pavers have a high wear and tear resistance and have a non-slip surface that will last a long time.
Pavers can also be easy to repair. If a paver ever cracks, it can likely be removed and replaced.
TILE DECK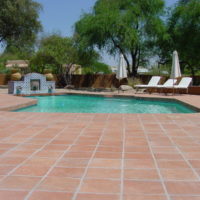 Glazed tile is too slippery for pool deck's, but unglazed tile adds a touch of elegance to the backyard.
Don't feel you're limited to just square tiles. You can find tile in a variety of other shapes and sizes to create a unique look. You can even use specialty tiles which resemble stone, brick, marble or wood.
Tile can be one of the quickest and easiest materials to install. It can be set in concrete or with traditional grout. Because tile is relatively easy to install, you could possibly even make your existing deck larger if you have space.
If you're considering resurfacing or remodeling your pool deck or coping, we welcome you to come browse our retail rock yard at Whitewater Rock & Supply Co. for all of the mentioned materials. With the largest selection of natural building stone and boulders in Southern California, we also provide our customers with the highest quality product and unmatched service at a fair price.