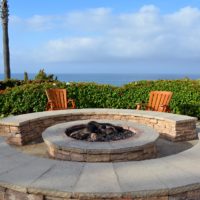 Outdoor living no longer has to end as soon as the temperatures get chilly when you have an outdoor fireplace! Transform your backyard this winter season, and enjoy the outdoors all year-round with a backyard fire pit from Whitewater Rock & Supply Co.
Perfect for any sized backyard, a fire pit instantly adds both ambiance and warmth to any outdoor space no matter how big or small. Complete with a multi-purpose design in mind, fire pits offer a functional, decorative space that provides entertainment for all ages.
If you're thinking about adding a fire pit to your backyard, here are some things to keep in mind:
Size: The standard radius of a traditional fire pit ranges from 42 to 50 inches, however this size can vary should you choose a different shape to fit your backyard. Depending on how much space you have available, you have the option to choose from round, square or rectangular shaped fire pits that are made from a wide variety of different materials to further accent your home.
Material: Ideally, the type of material you choose to use for your backyard fire pit or outdoor fireplace should work to complement the existing materials in that space. There are a variety of natural and manufactured stone styles as well as, different types of reclaimed wood, aluminum, copper, and even woven designs to choose from to create the look that's best for your backyard.
Fuel Type: While there are alternative fuel types available, the two most common types of fuel you could choose to use for your backyard fire pit are either wood or gas. If you're looking to create a true outdoor ambiance, then there's nothing better than burning real logs. However, keep in mind that this requires both a screen for flame protection as well as a steady supply of firewood. Alternatively, you could use gas or even propane to create an instant fire with easily sustainable ambience that lasts throughout the night.
In the end, the possibilities for the size, shape, material and fuel type are all completely customizable depending on your desired look, as well as your budget. Here at Whitewater Rock & Supply Co. we offer an array of stones and all the necessary materials for building the perfect backyard fire pit or outdoor fireplace to compliment your home. Our products include pre-made and DIY fire pit kits, gas logs, glass for fire pits, wood burning stoves and masonry fireplace materials.
Start the New Year off right by taking your living room outside to create a cozy space for outdoor entertaining that goes on long after the sun has gone. Visit our products page for more information, and design inspiration that meets all your outdoor entertaining needs.