Have you thought about revitalizing your garden with landscape pebbles?   The winter months are a great time to reflect on what you type of garden atmosphere you want to spend time in.  As you look around your yard, there are undoubtedly areas that could be improved.  Is there uncovered ground, lack of hydrated greenery or areas that could use a make-over? As you look to utilizing the outdoor spaces on your property, think of enhancing your desired aesthetic with natural-looking beach pebbles, cobbles, and polished pebbles to create your own private oasis.
Coverage, Borders, & Accents
Landscape pebbles are an excellent choice of material to cover exposed ground areas that have become exposed due to erosion or have become overgrown with weeds.  Pebbles provide for easy replacement of unkempt lawns as they can be spread evenly over landmass or built up to create visually appealing layers.   They can also deter stubborn weeds by smothering their growth.  Pebble and Cobble materials can be a great way to transform deteriorating corners by reviving these unsightly areas with inspired borders. Cobbles can be used to edge different areas or to create meandering pathways that twist and turn to invite you into your outdoor environment.
Hydration, Moisture & Drainage
An important, and often overlooked, the benefit of contributing to hardscapes with pebbles and cobblestones pertains to saving water.  Many property owners have been leaning towards creating more sustainable landscape designs in order to conserve water.  This does not mean that you have to forego greenery, but be mindful of its implementation.  In addition to selecting flowers, shrubs, trees, and plants that require less H20, strong drainage and hydration plan using rocks not only keeps beds neat but help provide coverage of mulch and soil to further protect plants from losing moisture.  Installing natural pebbles around the base of trees, in potted plants, and in flower beds can help retain moisture as well as reduce the need for overwatering.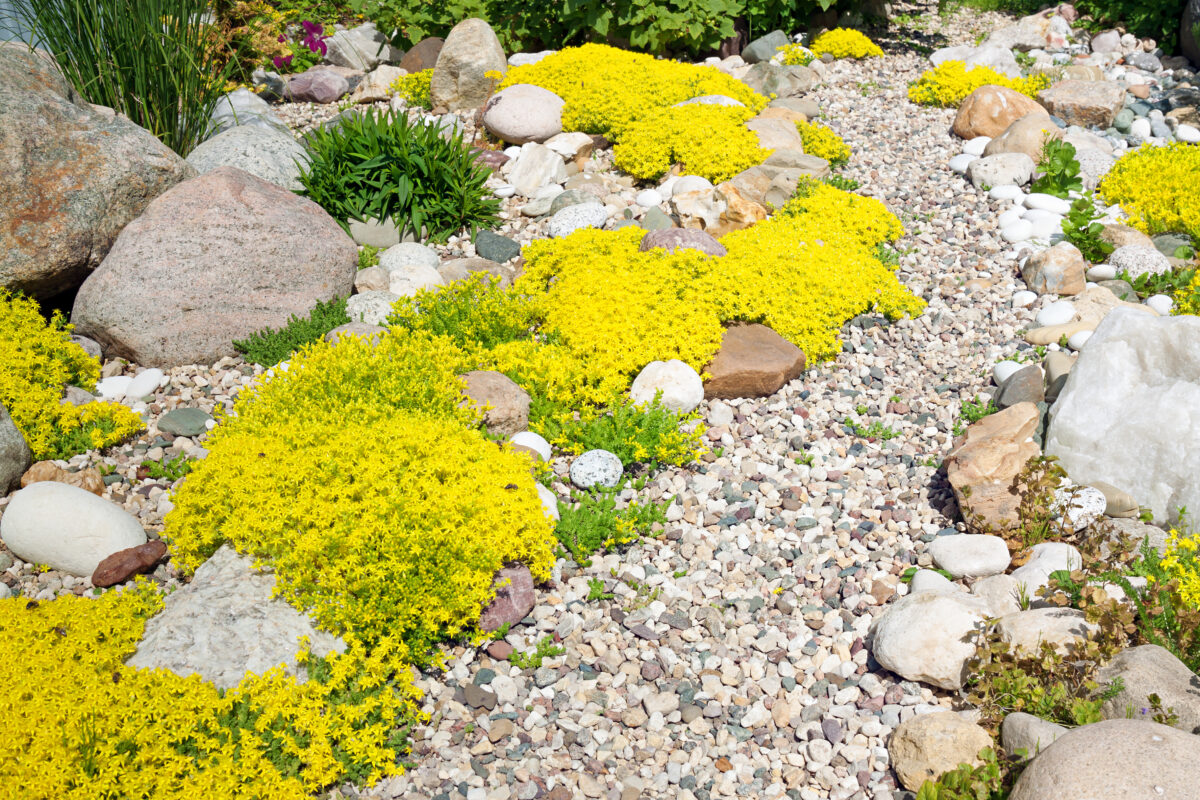 Landscape Pebbles Can Complete A Garden Facelift
Cobbles and pebbles are somewhat round in nature and come in a variety of colors and sizes with interesting contrasts and textures to compliment your garden design.  Some materials are polished and some, such as beach pebbles, can set the foundation for your new background setting.  You can use pebbles and cobbles to bring your vision to life and add unique destinations within your garden to relax, collect your thoughts, or enjoy the scenery.  Pebbles can be used in Zen Gardens or as underwater landscape cover for aqua plants and pond dwellers.  As you the winter months fade and your desire to get outdoors increases, do explore the many decorative options pebbles and cobbles can add to your welcome surroundings.
Whitewater Rock & Supply features an extensive Rock Yard with a complete collection landscape supplies including boulders, crushed rock, stones, pebbles, cobbles, and beach pebble to enhance your outdoor living space. Our team of landscape professionals is available to give you expert advice when deciding on your direction and we deliver to Palm Springs, the Coachella Valley region and beyond. Visit our product page to see more or come visit our rock yard to see our full selection.