Did you start the New Year with the resolution to finally fix up the yard? It probably doesn't need a complete overhaul, but with a few easy uses of decorative rock and building stone products, you can create a much more finished look. At Whitewater Rock and Supply Co., we have a rock yard full of choices of color and size to help you with your fix-it list. Here are some great and easy ways for fixing your backyard with rocks.
Border – is your old wooden border between your lawn and flowerbeds discolored and splintering? This is a super easy fix. Discard the wood and simply line some small to medium sized rocks along the border instead. You can use natural rocks with irregular shapes (jagged or smooth river rocks) or rocks that are similar to bricks. Rocks won't splinter and will stay in place easier as well.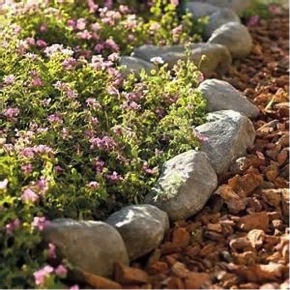 Groundcover – often, even when you have plants in a specific area, without some sort of groundcover, the area looks unfinished. However, just filling in and covering the dirt with pebbles or gravel makes an amazing difference. Again, there is a huge variety of colors and shapes to create the look you prefer.
Pathway – similarly, a dirt pathway can easily become an appealing and more user-friendly stepping stone path. Just place large flat stones along the path and fill in with gravel. A few potted plants complete the look.
Retaining Wall – if you have a small area that needs some support or another way to create a distinction between sections of your yard, a stone retaining wall is a good solution. For small projects, natural rocks can work well, but for bigger projects we can help you select and plan with a variety of building stone products.
Fixing your backyard with rocks can be a very easy and economical way to treat some problem areas and enhance the look of your landscaping. Give us a call at Whitewater Rock and Supply (760 325-2747), or better yet, come visit our rock yard and we can give you more tips about using rock supply and other outdoor features to start the New Year with a new yard. We deliver to Palm Springs, the entire Coachella Valley, and more.