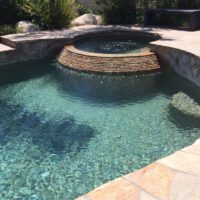 The deck around your pool probably takes up the majority of your backyard space and defines your landscaping style. Most homes in the Palm Springs area have concrete around the pool, however there are many other materials you can choose that will upgrade your backyard design. At Whitewater Rock & Supply, we have a vast selection of natural stone slabs, pavers, bricks and more to update your patio and pool deck and create a new look for your yard.
Flagstone
The term "flagstone" generally refers to any flat slab of natural paving. Flagstone is popular in the Coachella Valley as it is available in a range of rich earth tone colors that complement the desert scape. It's a good choice around pools as it has a non-slip surface and can resist wear and tear from cold and heat. It's easy to install and comes in just about any shape and size. Many people choose flagstone because the irregular shapes can create a more natural feel to a hardscape area. Whitewater Rock & Supply has a variety of flagstone choices including:
Slate is a type of flagstone that tends to produce darker colors such as dark browns to reds and rust, blacks, purples, blue-greys and greens. It's durable, easy to install and can be cut into various lengths and sizes.
Bluestone is another choice perfect for deck use as it is non-slip and hard wearing. It tends to be darker and blue-grey in color and creates a beautiful natural look.
Quartzite is one of the hardest natural stones, and is a favorite for pool decking. The color tends to be consistent, giving it a range for design from modern to traditional appeal.
Arizona Sandstone is cooler in the summer.
Pavers
Pavers can be manmade or cut from natural stone. The term is more often used when slabs are consistent in size and have a symmetrical shape. Pavers can be a great choice if you have a particular pattern in mind for your pool deck as they tend to be more consistent in size and color, allowing for a very uniform appearance. They are extremely durable and easy to install.
Brick
Bricks are a manmade material that aren't used too often as decks in the Palm Springs area, but do offer a beautiful, traditional-looking choice. They are slip resistant and can withstand the heat of our climate. They tend to be smaller than flagstone choices, create very uniform designs, and may be one of the more cost effective options.
Pool Coping
Pool coping is the material used to create the top of the pool wall where it meets the deck. It's important that the coping be consistent in size and depth to create a uniform rim. Pool coping is often different in color or style from the rest of the stones to mark the edge of the pool and add to the deck design.
Natural Stone Slabs or Pavers
Concrete decking can crack and adds little to the design of your home. Upgrading from concrete to natural stone slabs or pavers can significantly increase the style and personality of your backyard. Slabs and pavers are much easier to replace and if underground repairs are needed, a seamless fix is possible. It's also easier to expand your patio or pool deck with additional pavers should you choose.
Whitewater Rock & Supply stocks a vast choice of colors and materials for natural pool decking. We deliver throughout the Coachella Valley and beyond. Come visit our rock yard and start planning your new patio or pool deck now.